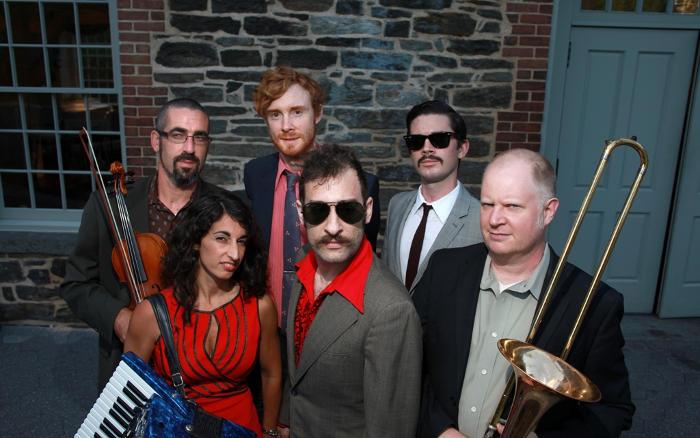 Critically-acclaimed klezmer-rock band Golem (Brooklyn, New York) is known nationally and internationally through its concerts, five album releases and hundreds of Jewish wedding (and non-Jewish!) and private event performances during its 15-year career. Golem has been featured on NPR, the New York Times and in 2014 the band performed live on Louis CK's hit television show, "Louie."
For private events, as a Jewish wedding band in NYC and all over the country, Golem creates a truly unique and special experience. Bandleader Annette Ezekiel Kogan works closely with the client to create a plan for a wedding, bar/bat mitzvah or party that has deep ties to tradition plus the contemporary excitement of today. Golem thus brings the time-honored role of the klezmer wedding band – wedding musicians who create an intense combination of music of their own tradition with that of the world around them – into the 21st century. In addition to its own repertoire, Golem plays music as varied as rock, funk, jazz, latin, country, standards as well as practically any Jewish music, from Carlebach to the Barry Sisters.
There are no other Jewish wedding bands that do both traditional and rock and roll as well as Golem as a private events band. Golem mixes contemporary tunes with traditional Jewish music that often leaves guests in tears of joy. There is something for everyone: the Yiddish-speaking grandmothers, the groom's rowdy friends, the ballroom dance enthusiasts, the couples and the single crowd. Golem prides itself on being a wedding band for mixed weddings, both Jewish and non-Jewish families, and making everyone in the room feel comfortable.
Every wedding Golem plays is different, because every bride and groom is different. Clients who hire Golem get an internationally-acclaimed, actively concertizing "real" band (rather than a adhoc group of wedding musicians) performing their own music as well as many other genres, but they also get an intimate, personalized experience carefully guided by Annette Ezekiel Kogan.
Golem is one of the best wedding bands in New York as well as all over the country, from San Francisco to Miami to Tulsa to Chicago.
Everybody loved the band, every age group, professional musicians… just Everybody. They are one of a kind FABULOUS.
Golem is by far the best wedding band I've ever heard/seen. Our guests are still raving about them, and it's been 2 months since our wedding day.
If you are looking for a band for your wedding and you want one that will induce a dance party that doesn't stop, Golem is it. They were absolutely phenomenal at our wedding, and we heard nothing but rave reviews from our guests, photographers and the staff at our venue. Reasonably priced and fabulous to work with, Golem made the event.
Golem is the best wedding band. They kept people on the dance floor all night long and our wedding was a Sunday night! One of the best moments was at the end when Golem played their last song and all of our friends started shouting "one more song!" And they did an encore for us! They're just all around a very cool, very fun band!